Refuge Farms provide permanent home for unwanted horses by Sara Tischauser, Correspondent, Wisconsin State Farmer. [September 15, 2006]

SPRING VALLEY
Refuge Farms started with a promise to take one horse and make a difference in someone's life with that horse. Since that first step, Refuge Farms near Spring Valley has received more horses and helped many people along the way.
Refuge Farms was once only a dream for Sandy Gilbert, now executive director of the organization, and Andy Durco. One day Durco stopped in to show Gilbert his new horse, Thunder, and he also showed Gilbert another horse that was called Charity Case. This horse had a clubfoot and before Durco took the horse it was being fattened up for slaughter.
Gilbert said she really wanted the horse, but didn't know if she could do what Durco wanted her to do with it. Durco wanted Gilbert to take Charity Case (later named Frances Andrew) and make a difference in someone's life.
At the time Gilbert said she was not really interested in helping other people, but she did want the horse. In July 2002, Durco and Gilbert signed the papers to form Refuge Farms and have, since that time, taken in more than 35 horses.
Gilbert said the horses they take in at the farm are not like most horses.
"(They are) not the typical horses - they have baggage," Gilbert said. "Horses that come here are out of options."
Many of the horses have something wrong with them that make them un wanted by most people. Some of the horses are workhorses that have hurt legs or other problems that make them unable to work. Some horses on the farm are blind.
All the horses on the farm would have had an unpleasant future if they had not been taken in at Refuge Farms.
"The horses we have would have been forced (to endure) a painful death and or a long death," Gilbert said.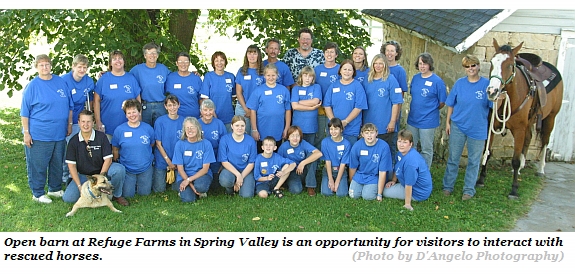 One of the horses, Unit, came to Refuge Farms when it was 4 months old and had cataracts on both eyes. Gilbert said they asked people for donations to fund the operation to remove the cataracts. Many donations were made and Unit had the operation.
While Unit's eyesight still is not perfect and the horse has problems seeing directly in front of her, Gilbert said she uses all her senses and can do the same work as any horse with full vision.
While most of the horses on the farm are brought from other places, one horse was born on Refuge Farms. Gilbert said when they took in a mare called Lanna, they were told the horse might be pregnant. A veterinary check showed the mare was not pregnant, but a few months later Jen-Ann was born. So far that makes Jeri-Ann the only horse born on Refuge Farms.
All the horses are promised basic things when they come to Refuge Farms: safety and respect, plenty of food and water and that the horse will never leave Refuge Farms, Gilbert said.
When a horse dies it is buried at Refuge Farms so as to not break the last part of the promise. Some of the horses are buried and have a flowerbed planted on the site or have a tree planted in the yard in their memory.
These trees and flowerbeds are chosen to match each individual horse's personality. Gilbert can tell visitors about the horse that goes with each flowerbed and tree and is more than willing to tell many of the stories from the past years.
Taking care of the horses and providing them with a safe place to live is only part of the mission of Refuge Farms. It is also to make the horses available to the public at no charge.
Kathy Myren, one of the workers at Refuge Farms, said she has seen the benefits to some of the people who have come to the farm. She said one time a woman from a nursing home visited and was unable to get out of the car. Myren said they took her in the car down to the horses and put the horse by the car window.
At first, the woman could not move her hands but after a while she was able to move her hand to pet the horse.
Gilbert said the horses have some thing to teach everyone whether that is how to trust, persevere or keep alive the will to live.
Some people come to Refuge Farms just once, Gilbert said, but others come often. While she cannot guarantee that everyone will find what they need at the farm, Gilbert said many people find something worth their time.
The public is invited to the farm and can find the hours posted on their Web site at www.refugefarms.org.
Refuge Farms will be having its fifth annual open barn starting at noon until 4 p.m. on Sunday, Sept. 17. The day will include a live auction, artists in the yard, horse stories in the corral and food by Applebee's as well as up-close visits with each of the horses. The event is free to the public and is an opportunity for people to see what Refuge Farms is all about.

by Sara Tischauser, Correspondent, Wisconsin State Farmer.