'I Like Unit the Best!'

I'm learning that this healing thing isn't really something that I can schedule. Or should I say, successfully schedule? I do try to publish public hours and schedule private hours but I'm finding that when the need for healing arises, I simply open the gates (or barns, in our case!) regardless of what the calendar or the clock says. And surprisingly, I'm finding these "unscheduled visits" are just as special for me as any of the guests.
For example, I had been talking via email to a young woman about her special friend. This special friend of hers was having a birthday, but the life of this special friend was a bit rough at the time. Not only was a family being divided, effecting changes brought about by separation, but there was constant activity of young children at home.
Well, anyway, I just opened the barns even though Refuge Farms was "closed". At least the sign said we were closed. It was the latter part of a very busy Saturday when the van from Minnesota pulled in. Out came the friend and her special friend. And the visit started.
You see, it had been the 8th birthday of this special friend the previous Thursday - a young lady who loved horses. She told me she had a whole pile of them at home. And she told me this as she emerged from behind her friend's legs.
Could it be she was shy around this big-voiced woman who was asking her where she got those purple lips? Could it be from that sucker she had in her hands?
I'm a bit loud and I know I can be intimidating to some children. So, I just let our relationship develop and trusted that she was feeling safe behind the legs of her friend. Off to the barns we went, chatting a bit while the children were running and enjoying the chance to stretch their legs. Their energy level was almost scary. I began the tour as I usually would and was already thinking ahead to which horse would be selected by the birthday girl. I was thinking I was wise. I was thinking I knew.
We met Josephina and Beauty and Babee Joy and Jeri-Ann. Babee Joy, so far, was the favorite of this little girl's sister. Then we went down to the other barn and we met April and Jimmer and Lanna and Pony and Gracie. And like once before, I felt I was running out of horses, and this little 8-year-old girl really wasn't connecting. Only that time, Frances Andrew wasn't here to save me.
I spent some time on Bonita's story and Miss Bette and Cole and Blaise, but this young birthday girl was still kind of just hanging around.
Then into the barn came Unit - flying into the barn and causing sawdust to go up in the air and the ears to go back on most of the other horses. Graceful and quiet Unit was NOT! She bolted around the barn causing a general upset and then noticed the humans! Food! Guests! Food! You could see it in her eyes.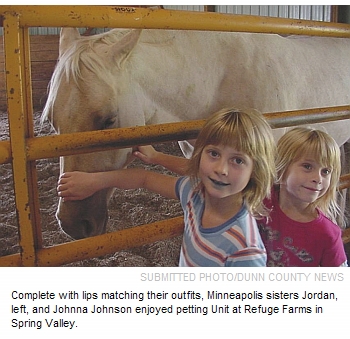 Over to the gates Unit came and immediately checked us all out for food. No food. How could this be? But then Unit found our 8-year-old guest. And Unit stood still.
Yup, Unit stood still. Now that, in itself, is magic - to think that Unit would stand still for anything other than food. But she stood still as could be while this little girl "found" her and pet her nose and smiled.
"I like Unit the best", the little girl said.
"Unit?" I asked.
You see, no one had ever chosen Unit before.
"Why not Unit?" the friend asked.
I explained that Unit was young and a bit lacking in social skills; that she was rammy and quick to move and hard to entertain and really sometimes a bit dangerous, not that she intends to hurt anyone. And she typically doesn't stand still long enough for anyone to really get to know her. She's a touch wild, I explained, although I like to interpret that wildness as her zest for life.
The friend looked at me and asked, "Who are you describing? Unit or my friend here?"
It was then that realizations came flooding in on me. It was then that I understood why this specific little horse had come my way. This special little birthday girl, so free and "zesty," was the mirror of Unit. And Unit was the mirror of her. That's the connection.
Unit has found her first purpose here at Refuge Farms and it is this little girl.
"I like Unit the best," the little girl said again. And, oh, yes, "little one," Unit likes you the best, too.
Magic. It happens. I see "it" happen here every day. A little horse relating to a little girl. Standing still for a little girl like she was a bucket of feed. And the little girl picking blades of grass to feed the little horse. Quiet. The both of them. A little girl and a little horse just meant for each other. It will be pure joy to watch these two grow together.
What a present to me that visit turned out to be, once again, reaffirming for me why we do what we do here: quietly rescuing, healing, sharing and healing some more.
I'm glad we were "open" on that day. Like I said at the start of this story, this healing thing cannot be scheduled. And when these visits occur, I'm the one feeling the impact right along with the guests. That's magic! I love it!
"I like Unit the best," she said. And I am pleased and proud and grateful for the opportunity to share Unit with you, little girl. Happy Birthday!

Enjoy the journey of each and every day,
Sandy and The Herd