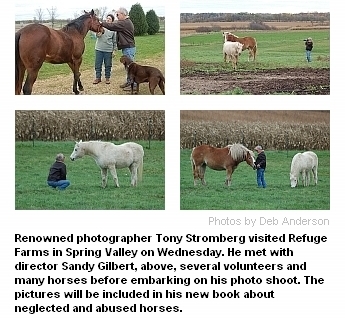 A shoot out in the west

By Deb Anderson
Variety Editor

It was nearly a perfect day for outdoor photography. Skies were overcast and precipitation was nil. Temperature-wise, however, it was a little chillier than the man from New Mexico is used to. As the gusty wind rippled across the prairie, renowned photographer Tony Stromberg strolled through the fields to get to know his newest subjects - the horses at Refuge Farms in Spring Valley.

Stromberg, 53, author of the book Spirit Horses, paid a visit to Refuge Farms from Wednesday through Friday to capture the spirit of the rescued horses for his new book. Yet to be officially named, the book will probably be called The Forgotten Horses, according to the photographer.

Through his research on the Internet, Stromberg found Refuge Farms and connected with volunteers through e-mails. The volunteers made it possible for Stromberg to make the visit so that the horses and mission of Refuge Farms can be among five horse rescue organizations that will be featured in the book.

A seasoned commercial photographer, Stromberg began his career in the food industry. He progressed to industrial photography that included computers and the hi-tech world, did portrait work and catalog work in the fast-paced world of advertising. He moved into the fashion world and then returned to food. Stromberg said an absurd four-day shoot to get the perfect picture of one raisin muffin nearly put him over the edge. Then he moved into the world of style, but finding food having more depth than most fashion models, he returned to shooting food once again. But when horses came into his life, his focus changed forever, literally and figuratively.


"They spoke to me," said Stromberg about the horses, "and I realized I felt really good about them."

A ranch manager in Ocate, N.M., Stromberg and his wife have several horses. But Stromberg wasn't always a horse person. His affinity for equines developed slowly. Curiosity about a friend's weekend getaways led him to horses. The friend, as it turned out, was spending quality time with her horse; and when Stromberg met her horse, his life and view behind the lenses changed forever. It was then that he realized that his success had come at a price. His reputation for quality had overtaken his quality of life.

Just seven years ago after his initial introduction to horses, Stromberg traded 20 years of frenzy in the advertising world for the peace of the West. He now has roots that are now deeply entrenched in the soul of the horse. Even a riding accident five years ago hasn't stopped his passion for horses. While recovery was slow after being bucked off a horse he'd never ridden before, and extensive physical therapy ensued for severe vertebrae tissue damage, Stromberg has never wavered from his love for the animals.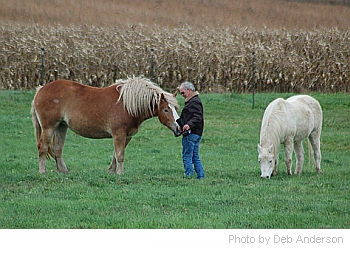 His passion is for the horses not the camera. Photography is just a means to express to the world what they mean to him. Stromberg finds the affect that horses have to be "very grounding and very calming." And he spends much time familiarizing himself with how horses behave and react in their natural habitat.

"The spirit of the horse is a magnificent teacher to humanity," says Stromberg.

Now, that love and respect for horses, the protection of wild horses, concern for abused and neglected horses and "our disposable society" prompt Stromberg to continue his journey one hoofbeat at a time.

For more on the work of Tony Stromberg, visit www. tonystromberg.com. For more about Refuge Farms, visit www.refugefarms.org.