Refuge Farms host its fifth
annual 'Open Barn'

You know, my Mom used to tell me that as I would get older, the summers would pass faster. I used to just roll my eyes. And turn my head and think, "Man, I hope I never get that old!"
Well, guess what? I'm here to tell you that as you get older, the summers will pass faster.
But at Refuge Farms, this does not mean that it's time to mourn the passing of a season. Oh, no! It's time to celebrate! You see, here at THE FARM, we try to approach events and passings with gratitude and rejoicing! So you won't catch us standing in the barns and moaning, "Where has this summer gone?" Nope. Instead, we open the barns and celebrate that we've had yet another summer of healing! And we celebrate by hosting our Annual Open Barn!
And just what is an Open Barn, you ask? Well, I explain it to people by simply saying that it's just like an open house except it's in the barns!
We literally remove the gates to give you up close and personal access to the horses. You will be able to stand right next to Big Jimmer (all 2,300 pounds of him!) and brush him and have your picture taken with him. And then you can move over to April, his girlfriend. She's a bit smaller, but we would never tell you that where she could hear us! Because, you see, April is a big horse in her mind. And not just any big horse. She is the boss horse of the big horse herd! All in that little compact frame of hers. Quite a creature. You just must meet her!
We'll have our little Gracie out for you to see, although she won't be able to "see" you, at least not with her eyes. But she will know you in seconds. And really know you. She's absolutely amazing.
The Babies will be in a group for you to marvel at - Unit, Babee Joy, and Jeri-Ann. It will be fun to hear you guess which one is the youngest of the three!
And our Big Guy will make his debut. What a story he is! His presenter will be a man of kindred soul, Charlie. I'm looking forward to that one, myself!
Big, glorious Beauty will come out for all to see. And those of you that saw her these past Open Barns will be able to instantly see the results of having a safe home. She is a remarkable looking animal and so quickly learning to trust! Far, far from the spooky, defensive being she was upon arriving.
There will be many more for you to pet and see. Even old man Cole will be there - all 36 years of him. Because we dare not take his girlfriend, Beauty, far from his sight!
But the Open Barn is so much more than just the horses! We have vendors "In the Yard". Gayle Adams, a gifted and heartfelt artist from Ridgeland, will be there with her artwork and saddle pads. Wissota Jewelry will be "In the Yard". As well as Dennis with his remarkable magnets. And a host of others. Fun times, just cruising the yard looking at a bit of everything...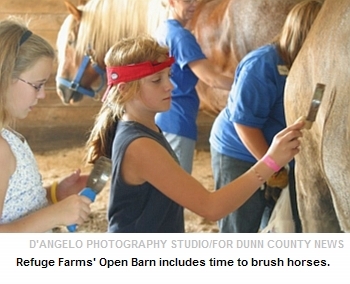 The kids will have a great time, too! Jingles, the Clown will be amongst us doing his best to get the our biggest smile ever! And Russell and Rhea will once again give horse drawn wagon rides for the kids (of all ages, by the way!).
Getting a bit hungry, are you? Well, never fear! Applebee's is here! Yes, our dear friend, the Menomonie Applebee's will be there to feed you and treat you right! They'll have wraps and burgers and even their gooey brownies and raspberry cheesecake! Thank you to Jeff and his crew for supporting our missions and serving us great Applebee's food at Refuge Farms!
At 2pm, Jeff Hines of Hines Auction Service arrives to once again lead our live auction. And folks, this auction is really something! We have over 40 baskets of new, donated items and services to auction. From Burt's Bees to handmade antique quilts to dog baskets to Barbie baskets to cat baskets to gardening baskets to harvest baskets to spa baskets. Really a wide assortment of very nice items and every single penny from the auction goes to the hay bill here at THE FARM. Thank you, Hines Auction, for once again supporting our missions!
So, what are you doing on Sunday, the 17th of September? How about coming out to Refuge Farms for the celebration of yet another great summer? Need directions? Simply go to our website (www.refugefarms.org) and select the "Maps" button. THE FARM is really easy to find.
So join us at the 5th Annual Open Barn Event from 12 noon to 4pm on Sunday, September 17th. Come and experience the Magic of Refuge Farms for yourself! And oh, by the way, did I mention it's free????

Enjoy the journey of each and every day
and see you at the Open Barn!
Sandy and The Herd