A changing of the guard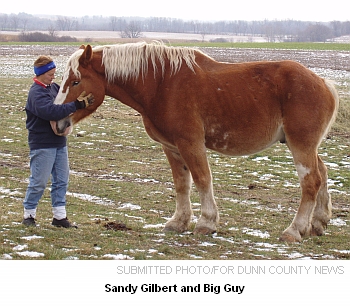 When Refuge Farms hosts its sixth annual open barn on Sunday, Sept. 16, a major player will not be present. Big Guy, as pictured here with executive director Sandy Gilbert, died suddenly on Monday.


Of the horse that arrived at the farm on Nov. 12, 2005, and ultimately exemplified the farm's mission, Gilbert said in a eulogy, "We cry at the loss of you. With us so short a time, but leaving a huge impression, your size truly reflected your capacity to forgive. May we never forget your lessons!"

Big Guy's age was unknown, but his circumstances were not. He arrived at Refuge Farms a battered and abused horse, who learned to trust again. He was just featured in the July article about Refuge Farms and, according to Gilbert, would want the open barn to continue.

The open barn will be held as planned on Sunday, Sept 16, noon to 4 p.m.

The barn opens at noon. Horse stories will be told in the corral.

At 2 p.m., the Jeff Hines auction will be held.

Artists will be displaying and working in the yard.

Admission to the open barn is free. Refuge Farms is located on Highway 29, just east of Spring Valley.