Gentle giant with big heart leaves lasting impression

I hate this part. And for a woman who lives her life trying to illustrate forgiveness, acceptance and sharing, those are very strong words. But with sincere honesty, I tell you that I hate this part. I truly hate this part.

Heavy load, heavy heart
It was September of 1995 and, being new to the St. Croix Valley, I took part of a Sunday afternoon to attend a local horse pull. Late afternoon found me fascinated by the "Heavyweight Teams". These animals were huge and so magnificent in their power and their performance! I was a goner!
A team from Minnesota came up to the stone boat, hooked, and started their pull. Then a champagne cork echoed in the valley. But it wasn't a champagne cork. It was the back of the left-hand horse. The big horse stood with his hindquarters tucked up, head down, shaking, and sweat began pouring from his underbelly.
"He's done for," I heard a spectator say. Not really thinking, and certainly not listening to my head, I found myself in the "pit area" talking with the owner of this obviously damaged equine monster, asking his price for the horse. The current kill price, since that was where the horse was heading, at that time was 85 cents per pound. That meant this crippled, pathetic athlete needed to bring good money to save him from the kill pens.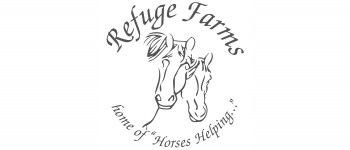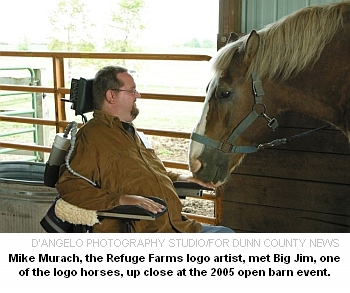 After striking the deal, I hurried home to get my truck and horse trailer. Upon returning and working to get the horse loaded, the owner told me flatly, "You bought a dead horse here, Sandy."
My heart would not hear it!
The eyes of this creature pleaded with me to take him away from the world of pulling and to give him protection. His body was in a bad way, but I sensed early on that the heart of this horse was as big as his frame and full of compassion.
Rescue and recovery
It was weeks later when I was finally able to take this big horse out of the stall at The Farm and gingerly walk him to the yard for some green grass - a journey of only twenty feet - and it was all he could do. His walk was off and that was putting it kindly. I was reminded of a semi going down the highway: you know, when the trailer is farther over on the right shoulder that the tractor, and when the rig tends to go down the road at an angle? That was how this horse moved - at an angle.
But he seemed as gentle as I had sensed. Throughout his recovery, even though I asked him to move and therefore created pain for him, he complied with a gentle effort and never once gave me cause for fear or caution. This horse truly was a gentle giant.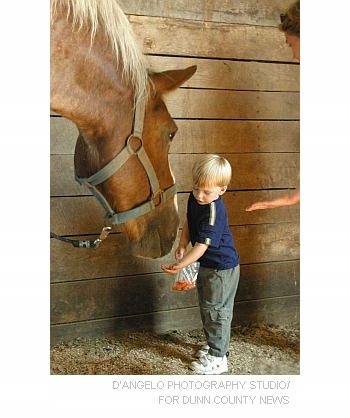 His name, the owner had said, was Jim. A plain name, but his name just the same. In my barn, his name became Big Jim, a name that gave more respect and class, a name that stated the obvious.
His recovery took several months. Finally, on a sunny spring day, I took him to the pasture and removed his halter. This horse did not trot away as others had. No, instead he turned his big head to me and nudged me as if to express his gratitude. I laughed and encouraged him to "Go and be a horse!"
It wasn't long after that day of release that Big Jim decided to rest his legs; and so he laid himself down on the ground. I watched as this monster gently put himself on the soft hay, and then I heard the huge sign of relief. His legs could rest! Wonderful! He slept most of the afternoon and it was early evening before I knew he was in trouble.

Given his back injuries, Big Jim could not bend as needed to right himself. This horse could not get up! I went to him and watched and tried to understand how to help him. We had come too far to give up now! So, using only the equipment I had, I began the process of getting Big Jim with the tractor.
It was a difficult process, and I was trembling with the fear of hurting him or causing him injury. But I must get him up on his feet or Big Jim would die. Pulling gently, the tractor gave Big Jim the bend that his back could not. Gently I pulled, and his big legs began digging for earth and a footing. When he felt the ground firmly beneath his huge hooves, he righted himself so I could unhook him from the tractor. I sighed with relief, and Big Jim gave a snort. We were both exhausted and shaking, but grateful.
We soon came to know the routine. Twice a year - during Christmas and again at Fourth of July - Big Jim would lie down to rest his legs. I would pay attention and give him the time he needed. Then when he began to struggle, I would use the tractor to help him get back on his feet. Each time was just as tense and fearful as the very first, but each time was successful in righting him. We were a team!
Instinct for helping others
Throughout the next few years, Big Jim accompanied me to many events for young adults with disabilities. We would have afternoons filled with visitors in wheelchairs, their noises and their unplanned movements. And Big Jim was always as magnificent as his size.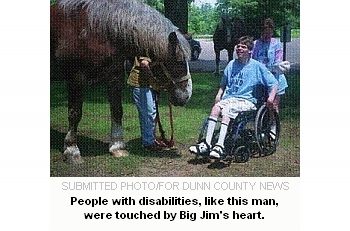 At a very early event, as a nonverbal young man in an electric wheelchair came to visit, I was positioned at Big Jim's head and verbally easing the horse in to the situation. Big Jim didn't need me there, but he tolerated me. He just let me do my thing as he showed me he completely understood what was needed of him.
When he turned his head to look at his oncoming visitor, I felt the horse freeze. He stopped all movement. Even his tail and his hide stopped their natural responses to the flies. The horse literally froze.
The young man approached Big Jim, and tucked his chair and his legs under the big horse's belly. A human face rubbed that big belly and arms waved, smiles appeared and noises of joy were heard. The visit continued and I was as frozen as Big Jim. I felt sheer elation at sharing this glorious animal and witnessed the "magic" at its best!
At the conclusion of the visit, the young man backed up his chair, turned and departed. Jim's big head turned to view the departure of his visitor.
&nbsp When it was safe, this 2,400-pound horse shook his entire body and that tail went a flyin', as if he was saying, "Get those flies off of me!" He waited until his visitor was was out-of-reach.
Many times, I witnessed the care, the wisdom, the compassion, the consideration and the awareness of this horse.
Big Jim never failed to share himself and his compassion for children. This monster loved the little children - children barely the size of his head! The animal was firmly convinced that his job was to use his size to show humans the true definition of kindness and forgiveness and gentleness.
Moving on
On the recently brutally cold morning of February 5, Big Jim's gentle spirit lifted up and moved on to his new life. It was his decision and his timing, and I have only gratitude and respect for his decision and his ways. Big Jim selected the time and crossed in such a manner that I had no opportunity to help him, to beg him to stay a bit longer or to try to lift him up once more. He saved a touch of his life to share with me, but he crossed all on his own and in his own way - a truly kind gesture, actually.
But I must tell you, that his leaving has broken my little heart, and his huge absence has left a huge bleeding hole in my very soul. Once again, I'm cold from the inside out. And once again, I know time will heal the worst of the wound. But I truly doubt that another like him will ever grace my life again. That was a one-of-a-kind animal - Perhaps the most gentle and forgiving animal I have ever known. With the crossing of Big Jim, I feel the passing of a generation.
Out of true and honest respect and out of true and honest love I tell you that I have been genuinely blessed and honored to have known Big Jim. He graced my barns for a long time and never failed to serve our missions when asked. He allowed me to care for him and I did the very best I knew how. I loved him. He was a foundation horse, one of our logo horses and a minister of mercy every single day of his life with us. Asking for very little and giving tons back, he was huge in body and spirit and huge of heart.
Bless you, Big Jim. You were truly pure of heart and gentle of soul.
And so now you understand why I say I hate this part. I hate it when they cross. I use that word only out of true love and grief at the loss of one of our best. This separation is painful. His memories flood me and my tears roll. But in all of this grief, I am aware that I have been blessed. And I am smiling because I have been given the chance to know this monster horse, to smell him and to hug his huge body, to trust him explicitly, and to share him with anyone who wanted to know "that big one over there."

Enjoy the journey of each and every day,
Sandy and The Herd