The family of Refuge Farms came together recently to look at the reflection of ourselves - no, not in a wall of mirrors, or maybe it was? We gathered to discuss what we have labeled as "The 2007 State of THE FARM." In this meeting we examined the numbers and the trends, and also spent some time recognizing each other and our contributions.

The year 2007, in all aspects, was anything but "typical." The bitter cold of last winter, the oppressive heat of the summer, and the rising cost of just surviving put a strain on us, on our guests and on The Herd. The year 2007 was also "The Year of the Crossings" - too many in too short a time. Our hearts are still healing and I am convinced that some of us will take years to recover from the enormous grief of that season.

Record-setting expenses
The numbers, however, tell the truth. Expenditures in 2007 were record setting - the largest number ever in the history of this organization. However, the increase in expenditures in 2007 over 2006 was only 3.15 percent - remarkable! Truly, I am in awe at the job we do and would think that most businesses in Wisconsin would love to boast this budgeting fact, as we are able to do.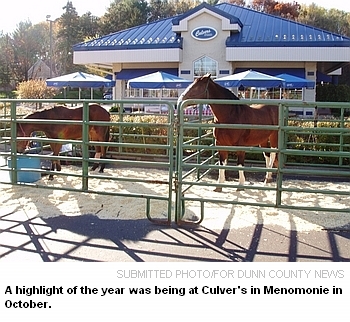 In a year when fuel costs tripled over last year and hay costs - if you could find the hay! - doubled over last year, to have an increase of only 3.15 percent is truly something to brag about.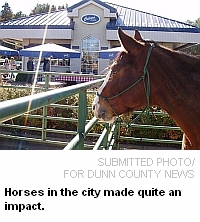 We watch every single penny here at THE FARM. We are not wasteful or extravagant. In fact, you may see us using 2005 graduation plates or napkins during this summer's events. They are new, we have them, and they work, so we use them.

But in every instance, even though we are vitally concerned with the thriftiness of our actions, the safety of our guests, our volunteers and The Herd is never jeopardized. No, there is not a time when shortcuts are taken to save money when that shortcut could create a hazard.

Donations stay the same
Total donations were relatively flat in 2007 compared with 2006. This is again a remarkable fact when we remember that 2007 was a year of fuel at more than $3 per gallon, and families had to decide on how to spend the ever-dwindling discretionary cash (play or save?). It's an even more amazing fact, when you consider that one of the largest nonprofit organizations in the world, The Red Cross, is laying off employees due to a decrease in contributions.

Refuge Farms is most fortunate and grateful for the dedicated hearts of The Friends of THE FARM. It is those generous hearts that allowed us to maintain our level of donations and to keep our barns open and free. Yes, admission to THE FARM is still free. A sincere thank you goes to each of you for supporting us and our missions.

Events explode
We did explode, however, in our yearly event totals. Refuge Farms either held or participated in 59 events in 2007. No wonder I was tired! These events included our Open Barn and Auction, our annual Walk for Refuge, our Antique and Garage Sale, and then a few new ones. We were blessed with a week-long event in October - the "Refuge Farms week at Culver's" as owner Gary Theelke celebrated his eighth anniversary week. What a week. More than 350 people came to check out the horses in Culver's front parking lot that Saturday.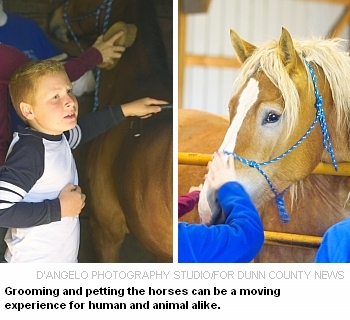 The total attendance at all of our 2007 events exceeded 3,000 people. Just think of that: 6,000 hands to touch a minister in horsehair, 6,000 feet to wander the yards and stop to enjoy a Memory Bed or sit on a Memory Bench and simply soak in the day and 6,000 arms to reach out and hug us as their visit drew to a close. It was amazing. My heart is bursting with the memory of them all.

As my mind wanders back into the year, I remember the black dirt flying everywhere as we planted The Kid's Garden and the children's once white stockings that were not so white anymore! I remember the vacation Bible school groups and the birthday parties. I remember the young hands working to balance the wheelbarrow or to grasp that big shovel. Determination was written on those little faces where beads of sweat soon appeared. And when the task was done, the smiles, oh, the smiles on those little dirty faces!


All in the family
And once again, none of this would have been even remotely possible were it not for that group of human beings we call "The Other Herd" - the volunteers. Our message is reaching the person who wants to come and be a part of this family, or come and try us on for size. Many people say they come to just be close to the horses. And so I watch. I see the horses remain an integral part of their purpose to return here, but the support and camaraderie and laughter with their fellow volunteers is what truly impacts their lives. It is this that truly brings them back.

We are a family here. There is closeness and a newfound comfort here in this group of volunteers. We are a family because we choose to be. And our commitment to each other is stronger than some blood family ties, to be sure.

Remembering
During our meeting, we took time to remember Frances Andrew and my dear Andy Durco, the horse and the man, respectively, who started this entire journey we call Refuge Farms. Andy was a big, tall Texan who saw a need and filled that need with "Charity Case" - a little Clydesdale colt being fattened for kill. Crippled and beautiful, this little horse has come to symbolize what our mission is - to watch over.

Awards given
And so, in their honor, the Frances Andrew Award is given each year to someone who has gone above and beyond in living by that mission. But their giving need not have anything to do with THE FARM. No, it is in recognition of community service and human caring for others. We recognize a lifestyle, not a set of tasks to be done, truly, a reflection of a heart. The award is one of my favorite parts of the meeting. What an honor it is to select and present the award.

This year there were three recipients: Colleen Blanchard of Eau Claire for her artistic talents in creating Refuge Farms' calendar and brochure and working at various fundraisers; Cathi Churchill of St. Paul for her year as marketing manager; and Tracy O'Connell of Spring Valley for opening her barns and pastures up to be Refuge Farms' first-ever annex location.

They spoke from the heart about how grateful they are to be a part of this family. They expressed why we are here and why Refuge Farms exists.

The horses are their hearts, that's for sure. The horses that are dying from neglect, starvation, abuse and disease reach into their hearts and own them. Without ever seeing them, they feel them and sense they must, absolutely must, go to their rescue. They feel they must try to heal them, console them and comfort them. And when it is time, set them free and grieve. But soon after, they realize they must pick themselves up and begin the process again. Yes, the horses are their hearts, that's for sure.

The horses unite all
But the horses are the common reason we all give for working so hard and long in the barns and in the yards. Hours and hours every week are spent to insure clean and safe barns - for The Herd and for the humans. In the process of taking care of "them," we end up taking care of each other and, surprisingly, ourselves. Never before have I witnessed such a diverse group come together for a common purpose and become such a cohesive unit for which nothing is impossible.



I am in awe and feeling that Andy's original goal is becoming a reality. "Take this horse, Sandy, and make a difference in somebody's life with it," he had challenged me. From where I sit, Andy's challenge is happening, but with me just needing to be the caretaker of The Herd.

The rest happens all on its own. The compassion, support, laughter, concern, sympathy, excitement and celebration all just happen as these new friends become family - family by choice. I just need to supply the reason to bring them all together in the first place - the horses in need.

Lessons learned
So, it is time to box up the papers of 2007 and put them away. Time to start a new accordion folder and a new alphabetical folder, each marked "2008." But what remains from 2007 are the lessons - the lessons of change and growth, of priorities and faith and of patience and forgiveness. These lessons I carry with me in my heart to the next year and for the rest of my life.

And it is these lessons that will carry me through the coming times of worry and grief, of doubt and stress, of battling the weather and even the budget in 2008. And I will remember these lessons as new children's faces become dirty with their efforts. And I will remember the lesson of laughter as I watch those faces break into big, happy smiles when I mention snow cones or s'mores or ice cream.

Yes, 2007 was a champion of a year! The numbers support it and my heart confirms it.

May each of you be as fortunate as I am and know the inner peace that comes with doing what your heart demands.

Enjoy the journey of each and every day,
Sandy and The Herd