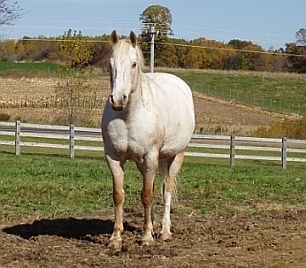 It was an August evening and a casual acquaintance stopped me at a local restaurant and said "There is a pony that you need to take!" Now, I quickly put my guard up since THE FARM tends to be the first place people will try to give their horses to when they just no longer want them. And I work hard with people to educate and explain the responsibility and care that one takes on when we take on a horse, a dog, a cat, or a child. I also try to explain that REFUGE FARMS holds it's feeders open for horses that have no option - the completely abandoned.

Sometimes I am successful, sometimes not. But this conversation, brief as it was, caused me to think this was one of those "not" cases. It was time to educate…time for me to talk a bit but not to react right away. There had to be other options.

And so that's what I did. I sat on it and did not say "Yes". I restated that REFUGE FARMS is for those who have no other options. And this horse, it seemed, should have other options?

Fast forward two weeks and I come home from work one day to find a note has been left at my door. Pony's mom has visited THE FARM and would like to talk with me about him. Okay. There's no harm in talking. But I caution myself that talking may lead to action. Red caution flags go up in my head.

I meet with Pony's mom the next Saturday afternoon. She is concerned and very polite. She tells me of her desperation and she cries. My heart hurts for her and I am concerned about the fate of the horse. I share our Declaration of Purpose with her and we part after she agrees to pursue other options and I agree to ponder the idea. We shake hands and I tell myself to sit - do not react, Sandy. Wait this one out. For what, I wonder? Don't know yet…. just wait.

The next day is Sunday and so the morning finds me at my usual spot in a small rural church up in Forrest, Wisconsin. We have our usual greeting and announcements and then we open our service with our first song. It is entitled "Gather Us In" and the first verse goes like this: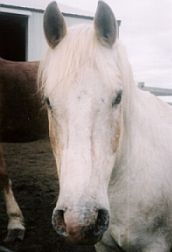 Gather us in the rich and the haughty
Gather us in the proud and the strong
Gather us in the lost and forsaken
Gather us in the blind and the lame……

With the singing of that line, I literally sat down in my pew and said out loud "Guess Pony's coming to live at THE FARM." It could not have been any more plain to me.

I call Pony's mom after service and relay the story to her. She cries and we agree that Pony will come to the THE FARM that very afternoon. Pony arrives and I very, very soon change his name to "PONY!"

Full of energy…beautiful…speedy…high-stepping…and very much a handful! As I watch him in the corral that first afternoon, I say to myself, "What have I done??? Children cannot be near him - he's too wild for THE FARM! Oh my! Now what do I do???"

Ima is an older, blind mare that has been here at THE FARM for a little over 5 years. She is a starvation case and the mother of April - one of the favorites of everyone who visits us. Recently, Ima has begun withdrawing from the herd and standing by herself more and more. I'm thinking her body is beginning to shut down and she is wanting some privacy.

But then PONY! arrives and she's a new woman! When people question the bond between the two of them I tell them it's much like a 95-year old woman who all of a sudden has a 55-year old boyfriend! The two are inseparable. If they should become separated, PONY! will run the pastures in bigger and bigger circles until he finds his Ima! And Ima is alive and keeping her man in place! What a site to behold!

Now, as you read this, you may wonder a bit about PONY!'s story. Let me tell you the rest….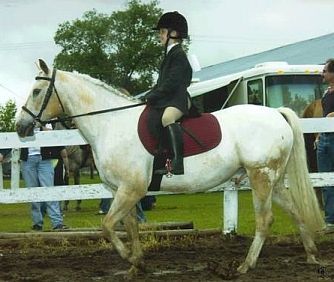 PONY! is a registered POA (Ponies of America) gelding of show quality. His previous owner was a 9-year old young lady that did just that - she showed him on the POA circuit and here is a picture of them in the show ring and aren't they both remarkable? Concerns were growing, however, when PONY! could only place at third or lower. Why was that? The judges said that it was because he "was choppy on the rail."

He was a well-behaved horse with a good disposition and listened to his owner with his full attention, so the situation became perplexing. PONY! should be taking first place! What is wrong?

Out of concern for PONY!, a trip was taken to the University of Minnesota for an exam. It was quickly discovered why PONY! was choppy on the rail and why he was struggling in new surroundings - PONY! was blind!

Now when I write this, it still causes me to shake my head and brings amazement to me and sheer appreciation for PONY!'s character. In a show circuit with strange horses, a strange uneven ground, and a strange arena…With all the noise and excitement of a show ring…And he is ridden by a 9-year old….and he manages to even place! Look at his picture! [see above] See the head held up high? See the eyes straight ahead? See the pride and determination to be the best he could possibly be??? Do you see now why PONY! is at THE FARM? How could we not accept him with that spirit and determination?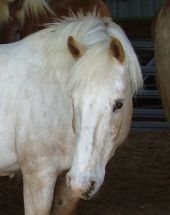 And what a gift he is turning out to be! Still a bit of a handful, but considerably calmer than when he arrived. And becoming a lover - coming straight up to me in the pasture - at a gallop! - when I call his name. Still a bit fast for his surroundings and still able to chase me out of the barn when he's moving at full speed, but becoming accustomed to us and us to him.

And above all, PONY! is still madly in love with his Ima. And so Ima is well and heading in to winter with a partner. What a wonder it is to see how she and PONY! are so caring and protective of each other. If only we humans could emulate PONY! and Ima…

So there you have the story of PONY! He still holds his head very high and his eyes are straight ahead and wide open. He is truly still trying to make his eyes see! He has not given up hope! He is alive and making the very most of every day!