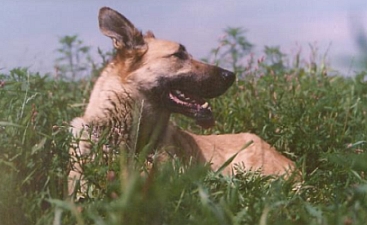 Sandy, line three is for you."

"This is Sandy."

"Sandy, this is Jodi at Dr. Marcie's office and we were just talking about you this morning and we all know that you are still mourning the loss of Lassie, but we have a German Shepherd here that just had the same leg as Lassie's amputated. She was found on the side of the road after being hit and we've advertised in the newspaper and on the radio but no one has claimed her and she's such a nice dog and we were wondering if you would be willing to take her just long enough to teach her how to walk, and climb stairs, and how to lay down without hurting herself and you know, the things you had to teach Lassie to do and it would be nothing permanent and we would all understand if you said no but she's really such a nice dog and Dr. Marcie donated the surgery to save her life and we need to get her to someone who will rehab her and do you think you would consider it?"

"When can I pick her up?"

"Really? You'll do it? Really? Wonderful! Dr. Marcie will be so pleased!"

Such was the start of one of the most memorable and meaningful relationships in my life. The relationship of Lady-the-Dog and me. What pals we became! What friends we were! And how much fun we had together!

But it certainly didn't start that way. I took in Lady purely as a rehab project. In fact, I spent an enormous amount of time telling anyone and everyone that would listen that "this dog is not staying. She's no Lassie, that's for sure. She's such a dog!"

Now why would I say things like this? In front of the dog and anyone who would stand still long enough to hear me? The only reason I can come up with after years of pondering the whole thing is this: I still wasn't over the loss of Lassie.

Lassie had been with me for years and was my friend. Lassie was the only other living creature in the hospital room with me when my sister, Donna, crossed. Lassie and I were bosom buddies. When she left, I promised myself I would not get another dog. Too much pain to lose them. And so I spent enormous amounts of energy building big walls between this Rehab Project and me. Walls that I never intended her - or any dog - to ever penetrate again.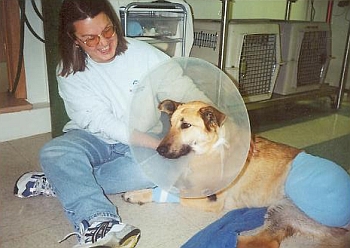 This dog called Lady came to me with an oozing surgical wound, a sore and purple swollen scar, and one of those huge hoods that prohibited her from licking her new incision. I could adapt to all of these physical things, but it was the panting and the drooling and the whining that I found hard to tolerate. Like I said, she was such a dog…

And this dog had no time for or interest in me, either. All she did was whine for the first few days at the house. And not just a once-in-a-while whine! But constant whining! Lady even whined in her sleep! What was her problem? Why all the whining? I soon observed that she only stopped the whining when a pickup truck would pass by. When that happened, her head flew up and her ears were straight up and she would get this look of hope on her face. And she stopped whining for a second! To see if the pickup was coming for her. Once the pickup passed the driveway, her head would go back down and the whining resumed.

After the first 48 hours of this, I took her to the shade of the basswood tree in the back yard and sat on the ground with her. I had put a dog bed on the ground so she would have some cushion between her and the ground. She was thin from the stress of the surgery and from wandering the roads before being hit by the car, so her bones were pretty much just right under her hide. I carried her. I was guessing that her body was sore all over…mine sure would have been!

We sat in the shade that afternoon and talked. I told her of my frustration with her whining and her drooling and her panting and her total disregard for me. And I told her that I missed Lassie and that I wished that she were Lassie. And when I was that honest and brutal with her feelings, this wise and understanding creature stopped panting and closed her mouth to turn her head and look me right in the eye. And I heard her heart say that she wished I were her old owner. You see, her heart was broken, too.

We were even. Neither one of us really wanted each other. But each other was what we had. Silently, we sat next to each other and contemplated our next step. Then quietly and very softly, this dog - this total dog - placed her long golden nose on my leg and raised her big brown eyes up to me. I'll try if you will, I heard. Well, okay, girl. It's a deal. Let's start over, shall we?

From that point on, we did our respective bests to accept each other. She accepted my habits and needs and tried to understand what I wanted. And I worked to accept her. As Lady. And to not try to make her in to Lassie. To accept this dog who had physical and emotional wounds. This little creature whose skin wounds were healing much faster than her sad heart.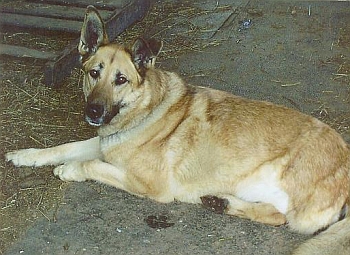 We both felt abandoned. Left alone to fend for ourselves. And soon we both saw that we had much in common. We started to take some interest in each other. Lady's wounds healed nicely and the hair on her hip started to reappear. I bathed her and massaged the wound to keep the blood flowing and to try to speed up the healing. Time flew. We talked about everything and did everything together. Weeks passed. And we actually began to interact and maybe, just maybe, like each other a little bit. If you were really quiet enough, you could hear both of our protective walls crumbling down.

Dr. Marcie's office called after six weeks or so. Everyone at the clinic was all excited! A family up in the New Richmond area had agreed to take Lady as their family pet! Wasn't it wonderful? When could I bring her up?

Without thinking or pausing long enough to think, my response was clear and swift. "She has a home," I said, "with me."

Over the years, Lady and I traveled everywhere together. We hauled hay together. We swam together. We went to the cabin together. We got lost in the woods together. We took horses to Isaac together…long, long trips when she would put her head in my lap and sleep on the way home. We went to McDonald's® and ate in the park together. Lady saw Jerry, the Roan Horse arrive and saw Ono cross. She was here for me to hug when my tears flowed or when my laughter roared. More than anything, whatever the day, Lady was here. For me. And I did my best to be there for her. This dog who asked nothing more of me than to be with me. Just to be included. To ride along or walk beside or sit next to me…. Over the years, Lady and I learned to love each other. Deeply.

To illustrate just how close we became, I literally had to work with Lady to teach her to walk a foot or so behind me. When we first began our journey together, she literally would pull the shoes off the back of my feet by stepping on my heels! She was walking that closely behind me! The concept of glue comes to my mind…we became glued together, she and I.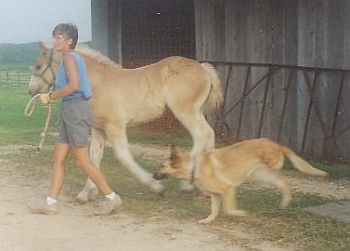 Her circle of friends expanded to include the campers of Camp Quest. And the guests of Refuge Farms. And our friends at Applebee's®. And all of Isaac's children. And Kathy. Lady became well traveled and well recognized and well loved by all.

As Lady grew a bit older, her single hind leg became a bit weaker and stiffer from being so well used. She was a German Shepherd, after all, and so was prone to hip dysplasia. And this single rear leg and hip of hers had been used as a pogo stick for years and so was slowly wearing out.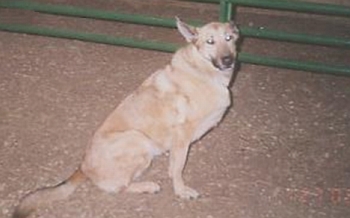 But Lady continued to be right beside me. Never once did she show me that she was weary or tired or sore. Only wanting to be with me. Still ready to go for a...r-i-d-e! Maybe a tad bit farther behind me, but still doing her job of guarding the gates and playing her fence line game with Jerry. Still my companion during chores in the heat, in the rain, in the freezing cold, or in a blizzard. There she was! Making sure I was safe. That was her job as she took it upon herself.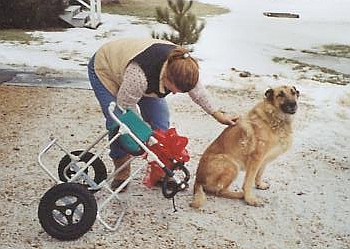 Christmas of 2005 brought great joy with the generous and life-giving gift of a K-9 Cart for dear Lady-the-Dog. And just in time! For, in just a matter of days, that single hind leg gave out completely. Without the cart, LTD would have been in a most difficult situation. But a few kind and thoughtful souls saw the need and gave Lady, truly, the gift of life that Christmas.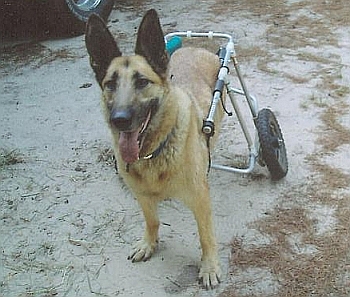 And Lady adapted very well to her new wheels! In fact, she soon had all of us trained to maneuver around her and her cart!!! Smart dog! This cart gave her the ability to run again! And with her new hind legs, Lady could even stand - something she hadn't been able to manage for quite some time.

Glorious! She beamed as she ran around the place showing off her new legs and her ability to run us all over! Her job as the fence and gate Marshall was now resumed at full speed! She felt whole again and performed her self-assigned tasks with great spirit and determination!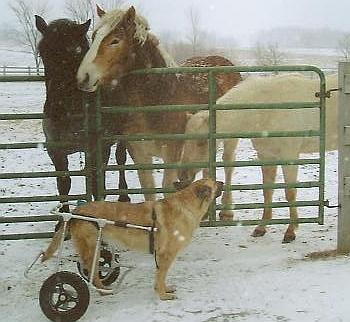 She was so proud and so important in her new and shiny cart! And I just know she told the horses, "Watch me! I've trained them to do something new! Watch! These people will move when I want them to move!!"

So I now have two special places in my heart and two Memory Beds for two remarkable dogs who each just so happened to have only three legs. And the same three legs, at that. Lassie and Lady-the-Dog. I can just see them running together and barking! Oh, Lady-the-Dog loved to bark! At the horses! At cars in the driveway! At birds in the trees! And even at the wind! Bark, LTD! And run! Run like that wind that you bark at! Run and play and meet me at the Rainbow Bridge!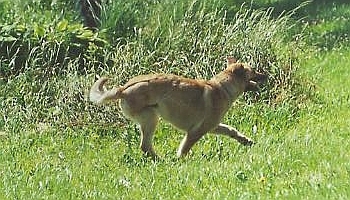 And this time, Lady-the-Dog, when we first meet, we will instantly love each other. Deal.
---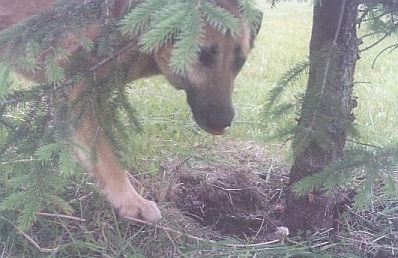 In September of 2006, one of The 'Other' Herd wrote me that she had "reflected about LTD as her Memory Garden was carefully and lovingly laid out." This was the result of her reflection:

L = Love of Life
A = Adoration of Sandy and The Herd
D = Determination to live life well every day
Y = Youthful exuberance

T = Trusting that all will be well
H = Heart of Pure Gold
E = Enjoying rides in her truck!

D = Diligence in her farm duties
O = One of the Best
G = Graceful to the end