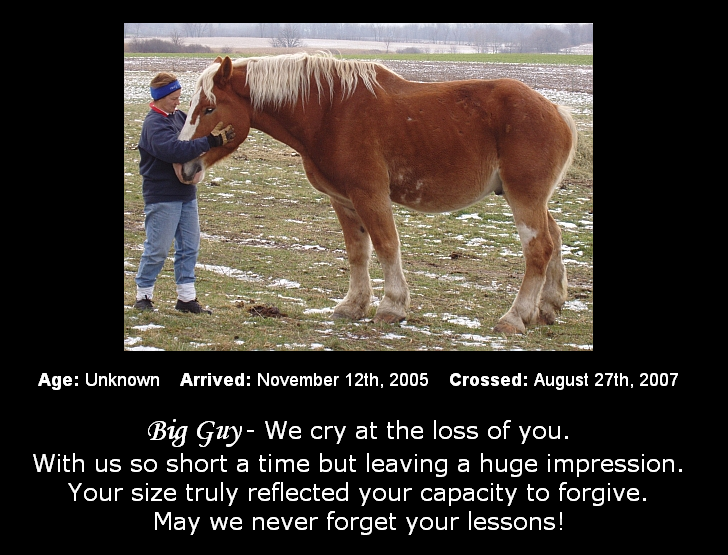 Enormous of heart. Running over with love for all of us. Eager to please. Funny to watch, at times. Able to somehow forgive what was behind him. Always playful. Willing to do whatever was asked. Trusting in those who cared for him. Well mannered and well behaved. A showpiece in his size of body. Matched only by his gentleness.

Big Guy. Crossing on Monday, August 27, 2007. The gusty strong winds blew again today as another of The Great Ones crossed. Unexpectedly and without warning. Was it an error in my judgment? Was it my carelessness of not being observant enough? Was it something I saw but didn't absorb until his Spirit had begun its journey?

I don't know those answers yet. Today I only know the pain and the grief and the regrets. Remember Big Guy. Remember the last time you hugged him or somehow touched that healing body of his. Remember his size. Size of body but more than that, the size of his heart. Remember what he taught us: forgiveness, peace-keeping, playfulness, and tolerance. Remember his soft eyes.

This black flag that flies for Big Guy has flown only one other time. And that was for Jerry, the Roan Horse. I placed it gently today in the same holder and with the very same respect as I did then. I am so very sorry, Big Guy. I pray your heart is big enough for forgiveness of me.