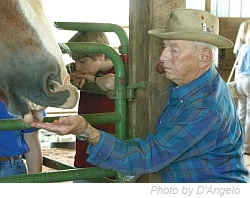 Irv and Marge came to our Open Barn in 2004, and every one thereafter, with bags of carrots in their arms ready to get to know these horses up close and personal. Irv was a horseman and Marge, his wife, supported his interests. It seems that Marge always, truly always, has a smile on her face.

Periodically, Irv would stop out to THE FARM with his trunk full of goodies for the horses, for me and the volunteers, and Lady-the-Dog. It got so that when Lady saw Irv's white car pull in to the driveway, she started to bark and drool for those treats that she just knew Irv had for her! And, true to form, Lady would tag along and I would see Irv, from the corner of my eye, feeding Lady a treat from time to time…and Lady swallowing them whole so as to not risk being discovered!

Irv loved Unit and Babee Joy. In fact, our Christmas note card speaks of Babee Joy in her new purple halter that was given to her as a Christmas gift from Irv. And using bed blankets and sleeping bags for the horses when we can't afford horse blankets was all Irv's idea! Our initial stock of blankets and sleeping bags came right out of that same car trunk of his. Thank you, Irv, for your gifts to all of us!

And I know it as sure as I know my name - Lady-the-Dog and Irv are sneaking treats together already! And both of them are thrilled at getting by with it!